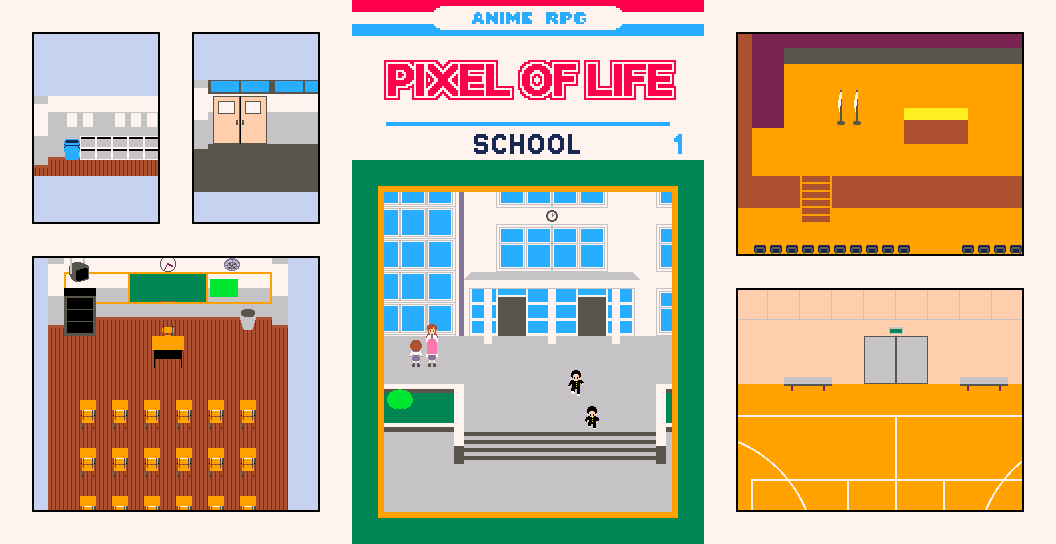 Anime RPG Tile Pack - Vol.1 School [PIXEL OF LIFE]
A downloadable asset pack
Anime RPG Tile Pack [PIXEL OF LIFE]
3/4 base modern day anime themed

It currently includes:
Volume 1 - School
Spritesheets: Students (male, female, each 10 hairstyles, alt on bike), Teachers (male, female)
Tileset: School [8 Building styles, Interior, Gym, Pool, Running Track]
Available for personal and commercial use and modification, just don't re-sell it or any derivative work from it.
Featured in:
https://waltoriouswritesaboutgames.com/2020/09/30/scratching-that-itch-anime-rpg...
https://danidre.itch.io/miscenagain

https://edgus.itch.io/somnischool
https://ahndhi.itch.io/banality-mini87
Send me your projects with these, I would love to check them up!
Purchase
In order to download this asset pack you must purchase it at or above the minimum price of $1 USD. You will get access to the following files:
student male.png
967 bytes
teacher female.png
1,016 bytes
school building 1.png
8 kB
school building 2.png
10 kB
school building 3.png
12 kB
school building 4.png
9 kB
school building 5.png
5 kB
school building 6.png
11 kB
school building 7.png
9 kB
school building 8.png
6 kB
hairstyles spritesheets.zip
25 kB
hairstyles contained in zipped file.png
3 kB
Comments
Log in with itch.io to leave a comment.
i love this but unfortunently i cant buy this :((
This is beautiful work, I love the clean retro style. Hope I can put this to use in something in the future!
Thank you, I'm glad you like it! I have much more to post but got to organize it first.
Please let me know if you make something with it, can't wait to see it (:
Hi, just want to make sure, can we use/share a purchased asset to more than one game/ more than one game developer?
Or it just licensed as a single product (one license for one game only).
You are free to use it in any project you participate, doesn't matter how many. A third party that had access to the asset but doensn't own it can't use it in other projects. Hope it clarifies, if not, let me know!
Hey there I was wondering what the Terms of Usage were? For example, if I wanted to make a non-commercial game, but wanted to edit the sprites to make different hair colors or styles of characters, would that be allowed?
Oh sorry for not specifying it before. If you own the pack, you are free to use and edit it in non-commercial and commercial as well, just don't re-sell the pack or any derivative work from it. Credit are optional, but let me see how your project goes!