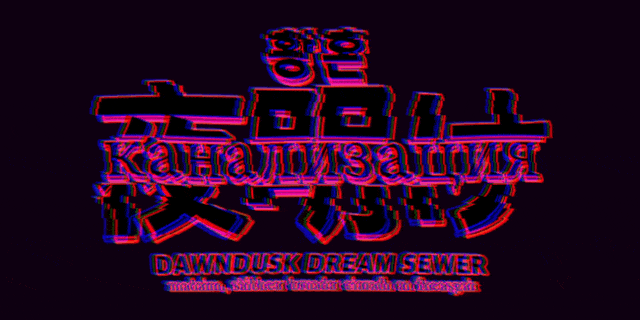 Dawndusk Dream Sewer
A downloadable game for Windows
Bind your soul to the mortal flesh of the astral vermin! The sewers are calling. They've spoken your name in hushed whispers through the countless interweaving pipes, echoing your most menial of actions in the bubbling sludge pools squirrelled away below a thousand floorboards, they've sought you since long before the point you've titled 'birth'.
Spill your mind to the sewers, fracture reason and venture into darkness. Mingle with the most ghastly of the pitiful mutated gutter folk, unearth their sickly soft spoken secrets.
.
..
...
The sewers beckon.
Come forth and witness their splendour!
...
..
.
Bodily functions, control your newly inhabited meat husk:
Arrow keys to move
Enter to interact
Shift key to enjoy the pleasant sensation of your keyboard's plastic against your skin
...
..
.
List of credits, hastily scrawled on a digital napkin:
Enlightened Programming Technomancer - Rbatistadelima
Trash Disposal Art / Writing Sewer Goblin - ShallowLagoon
Sound Sculpting Musical Humanoid - Shurk
| | |
| --- | --- |
| Published | 17 days ago |
| Status | Released |
| Platforms | Windows |
| Rating | |
| Authors | rbatistadelima, Shallow Lagoon |
| Genre | Simulation |
| Tags | Abstract, Atmospheric, Experimental, Horror, Isometric, Pixel Art, psychedelic, Slime, Surreal, Voxel |
Comments
Log in with itch.io to leave a comment.
i would love to play this if there's ever a mac version (bc i love sewers)
Hey, I use a mac too, it's currently possible to play the game using a Windows emulator. I use a piece of software called 'Wine' to play it. Hope that helps :)
Definitely can't say I understand it but it was definitely a neat look at a sewer cult my play through of this game starts here at 4:03 :
Thank you so much for delving into our surreal sewers! Absolutely loved the let's play and I'm so glad you enjoyed the experience!